This is the Blog Hop that features shelter animals. Find a cat, dog, rabbit, etc. at your local animal shelter or rescue and feature them on this Blog Hop! Come join the fun and help a furry friend find a forever home! And while you're at it, don't forget to visit the other blogs and share their doggies, cats, rabbits, and all the other animals that need forever homes on your social media sites. Please spread the word!
Chesapeake Bay Retriever • Adult • Female • Large
Chesapeake Bay Retriever Rescue of WI Appleton, WI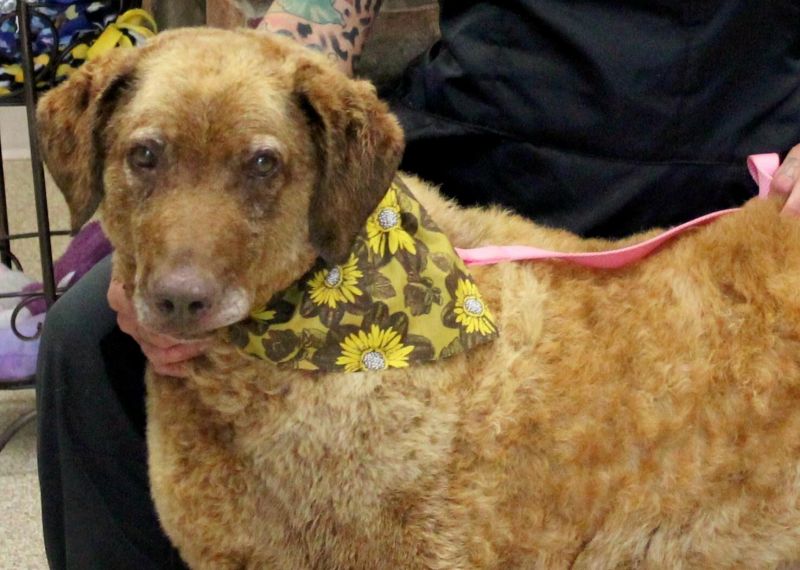 Sadie is a 7 year old female dead grass Chessie that is new to CRROW. Sadie weighs 77 pounds, and is spayed. She is also recovering from LYME disease . Sadie has all of her vaccines, and is micro chipped also.
Sadie is very sweet with people. She is a good rider-very quiet in the car. She walks well on lead also. She LOVES everyone and is ok with kids. Sadie has the typical "I want to be right by you" Chessie trait.
When Sadie was very young she was attacked by another dog (which is why she doesn't like other dogs). She lost most of the vision in her right eye due to this. Our vet said she can probably see shadows, but no real vision in that eye.
Sadie will need a home where she is the only special dog due to that attack when she was young.. She cannot be with cats, A required fenced yard will give her the access to exercise and fun, and not allow her to chase cars, as she did when she was an outside , unsupervised dog.
For more information about Sadie, contact sue@crrow,org. An application can be found on http://www.crrow.org
Powered by Linky Tools
Click here to enter your link and view this Linky Tools list…